A short (partial) synopsis of New Parish:
Sarah, a 27-year-old feisty southern girl, living in Atlanta, has had too many bad dates. She thinks her new friend Mary, might have the answer to her problem, plural marriage. Mary comes from a place where they do that. Sarah wants to find a nice guy, get married and have some kids. That's all she really wants, she thought that would be a simple, just the old fashioned dream of home and family…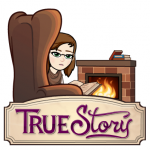 She agonizes over this option, investigates the community for herself by spending Christmas with Mary and her very large family. While there she asks for the whole story, warts and all. She gets an open honest conversation about plural marriage the good and the bad. Then she retreats to her southern comfort zone to try and figure out what she really wants to do. While in said comfort zone, on Tybee Island, Sarah meets a super cute guy and decides to give dating one more shot. The date ends when the guy tries to grab her inappropriately and she knees him in the nards. She leaves the restaurant with her dignity intact, but, slowly begins to spiral into a deep despair creating an inner storm to match the terrible one that is beginning on the island. That night alone in the family condo she finally makes her choice, she's going West….
Sarah asks a lot of questions and gets some straight forward honest answers…
Excerpt from New Parish:
"Sarah was checking messages on her phone when Mary joined her on a bench underneath a big tree. "Hi, what's up?" asked Mary.
"Well I don't know if I'm really desperate, stupid, or what, but I wanted to ask you about that whole plural marriage thing that goes on where you're from," said Sarah with some apprehension.
"Oh?" was all that Mary said as she sat down beside Sarah and waited for her to continue.
"Yeah, well, how does it work?"
"Very well, I think," Mary said, looking quizzically at Sarah.
"Oh come on! What do they do? What's the process? Are they miserable? Are the women conditioned to be in these relationships, like "Stepford Wives"? Do men abuse the women? How do the women get along? Are they mean to each other?" Sarah bombed Mary with all the serious questions she could think of, in a way, trying to talk herself out of further inquiry.
"Whoa!" said Mary holding her hands up, "I need a paper and pen to write all those questions down."
"Okay start with the conditioning and how the women get along," Sarah pointed the questions she thought were the most important aspects of her inquiry.
"Well, as in the rest of the world, everyone is different and very individual, so they're not conditioned. They are taught the value of living in the life style, but everyone chooses for themselves, it's not for everyone, some people can't deal with it at all while others thrive in that environment. As for getting along, well, that depends on the women involved, as I said everyone is individual so some personalities clash and some people get along really great." Mary was still looking quizzically at Sarah."
Out West: