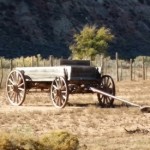 My book New Parish, is a literary fiction, light romantic comedy, with an intriguing polygamous twist, it's very different and diverse from the run-of-the-mill romance novels flooding the market these days.
The story follows Sarah from bad dates to total frustration as she explores her thoughts, fears, and feelings while contemplating plural marriage as an alternative to dating the losers she's had to deal with. She asks the hard questions of her new friends, and even asks herself if she's nuts or desperate for considering this option. All factors are explored, but the better side of living this unique social arrangement is truthfully told through the voice of its lovable characters.  The story reveals happiness, fulfillment, and safety in this lifestyle. The manuscript is 92,000 words.
Review of New Parish by Jaclyn Knapp, M.S., ED.S Weber State University, Ogden, UT:
"Julie is a captivating author. I spent more late nights reading than I should have. This story captured the magic of your community, it's the kind of hometown we wish we all had, and the kind of community where we wish all of our children could be raised. I'll be first in line to buy anything she publishes."
This is a work of fiction but it has a lot of real life experiences that I've encountered as I moved west to live in a small polygamous community in Arizona. The realisms I use in the book are ones I've either experienced or heard about from others I've interviewed.